Fresh off the runway from the likes of Balmain, Dior & Dsquared2 and rolling into your decor furnishings, velvet is trending from Fashion to Furniture – get your velvet on with The Mill. Fashion designers are combatting the digital overload by embracing the hypertexture surface of velvet fabrics. We will dive into the world of velvets and how you can introduce it in your interior.
Why is velvet so popular? You can thank its appearance, touch and its directional "nap". Soft and warm, it feels as good as it looks (as all luxury fabrics should!). Velvet stands out from other upholstery fabrics, adding depth and definition to the shape of a piece. The depth of the "pile" also shows off dye really well, resulting in an intense, rich tone. Blue velvet will have a much deeper colour than a similarly-dyed piece of flat-weave cotton or linen. 
Wait, what does pile and nap mean? Read along to find out!

Having a "BALL" with choosing your fabric? Why not have a "BALLANTYNE"? Our Ballantyne Collection offers a soft, textured shadow velvet with a fascinating pressed/crushed surface interest, giving the appeal of Vintage textiles.  With a strong 60,000 Martindale Rubs, enjoy durable upholstery alongside the visual delicacy of cloth featuring a soft but strong felt backing.  Invite this historic luxury to enter your interior and create an environment with a splash of indulgence and heritage.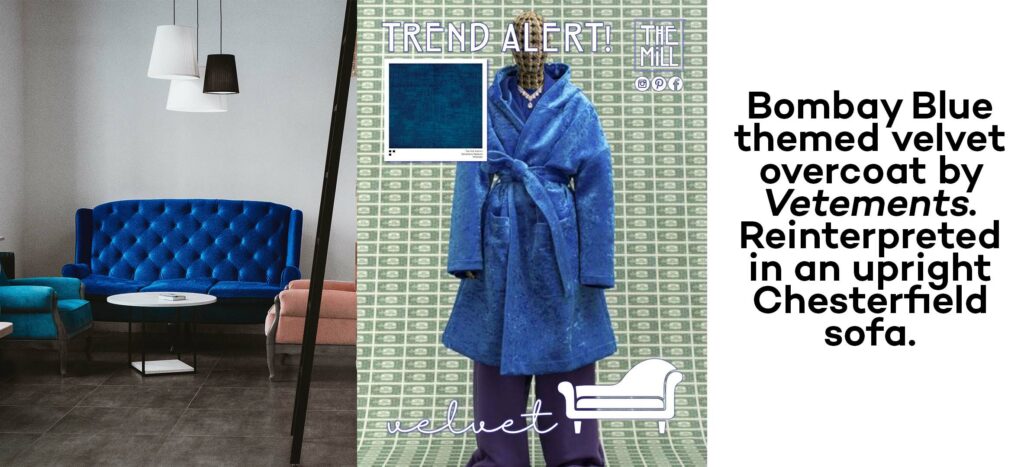 Velvet brings in a touch of luxury to any space. Next up is our aptly named contemporary velvet collection; Luxury! Oh and doesn't the name say it all? Our Luxury range will transform any furniture piece into a modern classic. This textile is also beautifully strong, boasting more than 45,000 Martindale rubs, making it suitable across the board from headboards and dining chairs to corporate and hospitality applications.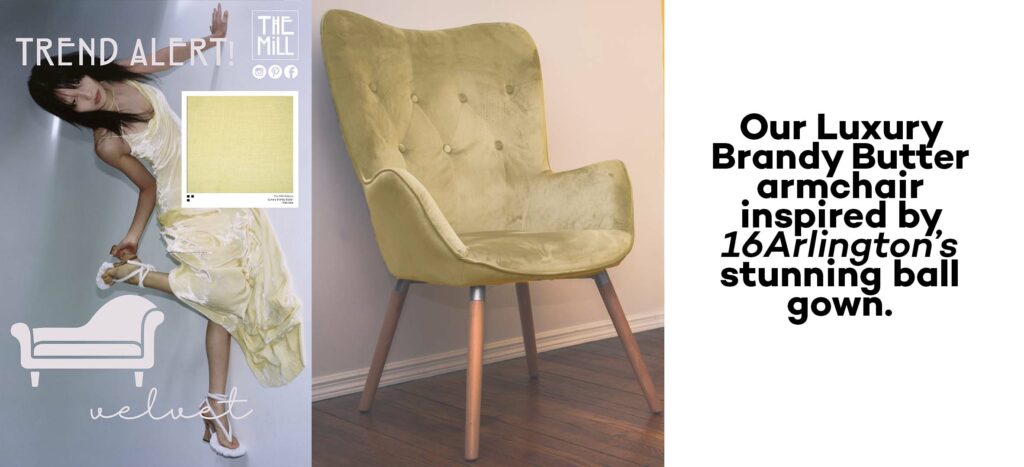 SO – now that we know about what's trending- let's take a look at what Velvet is all about.velu, meaning "shaggy." Velvet is made in the pile weave, of silk, cotton, or synthetic fibres, and is characterised by a soft, downy surface formed by clipped yarns. They are also occasionally patterned or embossed. Synthetic velvets, such as those made from our high-quality polyester compositions, are less prone to marking or crushing.  The soft, smooth fabric epitomises luxury, with its smooth nap and shiny appearance. Velvet has been a fixture of fashion design and decor for years, and its high-end feel and appearance make it an ideal textile for elevated design. Velvet, in textiles, is fabric having a short, dense pile, and is widely used in clothing and upholstery.
The term derives from the French word 
PILE AND NAP: THE SECRETS TO VELVET
"Pile" refers to the fibres that stick up from the upholstery backing. The pile is what gives velvet its characteristic soft, plush surface. "Nap" refers to the direction that those fibres lie. Not all velvets are directional, but ones that are reflect light differently depending upon the direction of the nap. That's why velvet can look lighter or darker when you run your hand across it, changing the direction of the pile. It's this characteristic that accentuates shapes covered in velvet and makes tufted velvet furniture so visually appealing. When cutting a nap fabric, it is essential to make sure all pieces are cut in the same direction, otherwise the furniture will appear shaded in different directions.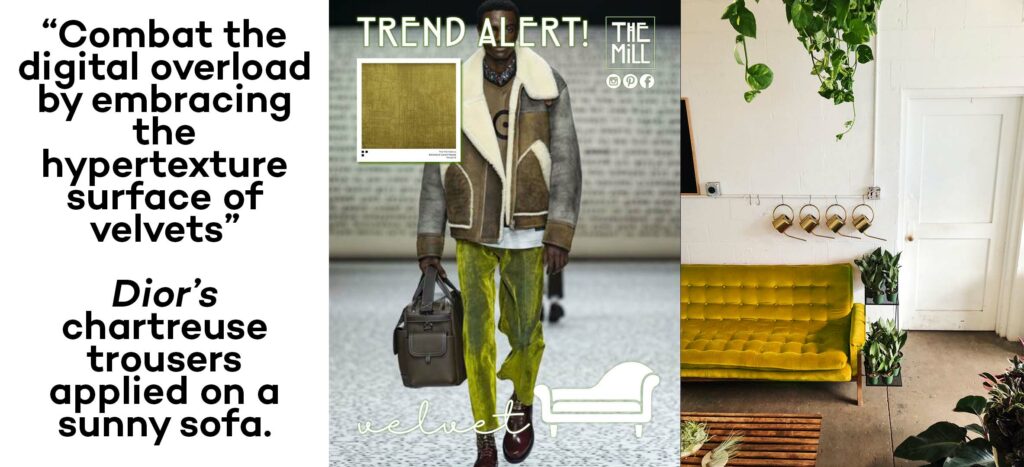 MAINTENANCE
Velvet has a reputation for being challenging to maintain. While it can require more little attention than some other fabrics, we will argue that it is always worth it!
Once you decide to include velvet in your moodboards, it is important to select a fabric that will hold up to its expected use. Our high quality 100% polyester velvet is superbly durable for high traffic applications as well as relaxed interiors, from hospitality to home. 
Here are also a few things you can do to avoid typical velvet impression marks:
Rotate your cushions regularly to help prevent pressure marks where the cushions rest on each other.

Plump your cushions to keep them looking fat and wrinkle-free. Wrinkles may mark the velvet.

Brush your furniture weekly with a velvet brush or soft clothes brush, going in the direction of the nap.

Don't let anything hard sit on the sofa for a long time. A book or TV remote can mark velvet if left in one place for long enough.
If you happen to get crush marks, here are some fixes:
Brush gently in the direction of the nap with a soft clothes brush or velvet brush.

If your fabric care code allows the use of water-based cleaning solvents, spray the crushed area with a light mist of clean water, followed by a gentle brushing.

Call in the experts. There are upholstery cleaning companies that specialise in unique fabrics like velvet (call and ask if they do before having them treat your sofa).
One of the most common complaints is from pet owners, who say velvet acts as a magnet for hair. There's no denying that pet hair will end up on the velvet, but it brushes off with a soft clothes brush or velvet brush. One interesting pet-related fact: Cats find it a lot more difficult to get their claws into velvet than into a fabric with an obvious weave, such as linen.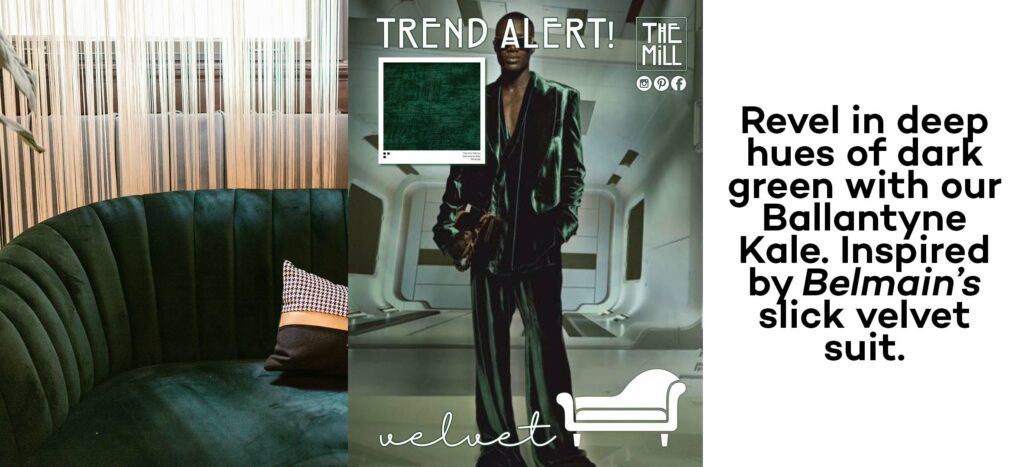 CLEANING
If something gets spilled on your velvet sofa, the first step is to try and shake off the liquid so it doesn't soak in. Then dab at the damp area with a clean white cloth, working from the outside of the spill toward the centre to avoid creating an even larger wet spot. Do not rub or blot with pressure—you'll just flatten the pile. Dab at the spot just as you would if you were mopping up something that spilled (from the outside in). After cleaning, allow your furniture to completely dry before replacing the cushions or sitting on it. Brush the dry fabric with a velvet brush in the direction of the nap to renew and soften it.
 If you think that the job may be too challenging, consider calling a professional cleaner that specialises in velvet and other unique upholstery fabrics. There is no substitute for expertise.
If vacuuming is needed, always vacuum in the direction of the nap. (Test the effect of vacuuming on your fabric by first vacuuming a small, inconspicuous area.)

Velvet fabrics add drama in stunning alternative applications, think lampshades and scatter cushions! What are your favourite applications?