12 Recycled bottles per linear meter of rPET Felt.
100% locally made in South Africa.
Yes, you read that right!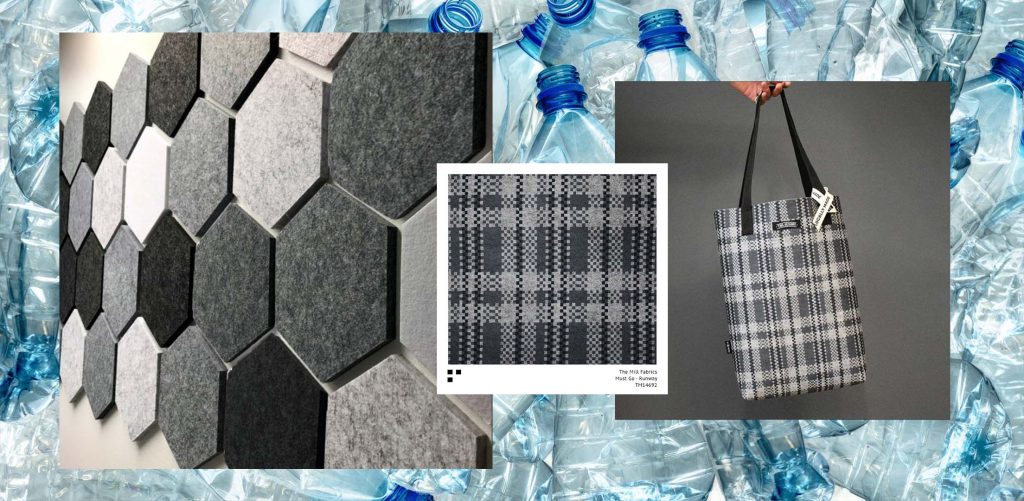 From screening panels to soft storage, laptop sleeves to tote bags, booth seating to ottomans – the applications are unlimited! Our rFelt also achieves acoustic properties with the addition of Rock Wool behind panelling for sound absorption.
Available in three shades of grey and our signature print –  Must Go Runway.
How does The Mill's rFelt promote sustainable living?
It reduces consumption of non-renewable resources by using recycled content. It reduces carbon emission, water and energy (with a significantly smaller environmental impact than virgin fibres). International standards and best practice are applied to all operations throughout production; guaranteeing quality as well as environmental and social responsibility and compliance. The entire process from the PET bottles to the finished felt product is 100% local, ensuring local economic growth in South Africa, supporting the local textile industry and thereby strengthening a circular recycling economy.
The process from raw PET bottles to finished rFelt product:
1. PET bottles are collected from various waste collection sites countrywide.
2. PET bottles are taken to a processing plant.
3. The PET bottles are cleaned.
4. The bottles are chopped into flakes.
5. The flakes are melted into small pellets.
6. The pellets are extruded to produce felt fibre.
7. The fibres are used to manufacture non woven felt & stitch bond fabric.
No water or chemicals used in the post production once pellets have been extruded into fibre.